When Gary and I first started dating…I decided I was going to be domestic.  I mean cooking for one always seemed pointless…but now that I could cook for two…it seemed exciting.  This was the beginning of my mission to make every food I loved healthy.  Enter the swaps.
Poor Gary…the meals he had to suffer through were horrendous.  I mean…some things just aren't meant to be healthy.  I attempted to make scalloped potatoes with squash instead of potatoes.  It turned into a soupy mess of disgustingness.  I tried to make Fettuccine Alfredo with spaghetti squash.  That one ended in tears.  I quickly learned squash was not my strong suit.  Even after all my disasters…Gary still tried every "healthy" thing I tried to make.  And for that I love him.
Not all my attempts were failures.  Some turned out swimmingly and are dishes I cook all the time.  One of my favs is my healthy version of mashed potatoes.  I love potatoes.  Ok..let's be honest.  I love carbs.  But carbs are not good for the waistline so I had to figure out an alternative.  Enter…mashed cauliflower.  If the idea of eating mashed up cauliflower turns you off…try it!  I promise you will change your mind.
Mashed Cauliflower
1 Head of Cauliflower
1 Potato*
16 oz Chicken Broth
1/4 cup 0% Nonfat Greek Yogurt
Dill
Salt
Pepper
*Adding one potato gives it more of that mashed potato consistency.  I've made this several times without the potato (even healthier) and it still awesome.  It's just about preference. 
1. Chop cauliflower into 1 inch chunks.  Peel potato (or leave skin on if you prefer).  Chop potato into 1 inch cubes.
2. Put chopped cauliflower and potato into large pot.  Add chicken broth.  Add water until all contents are submerged.  Boil until soft.  About 15-20 minutes.
3. Drain liquid and return contents to the pot.  Add greek yogurt, dill, salt, and pepper to taste.
4.  Using a fork or masher, mash all contents together.  Make sure all the ingredients are mixed in and you have your desired consistency.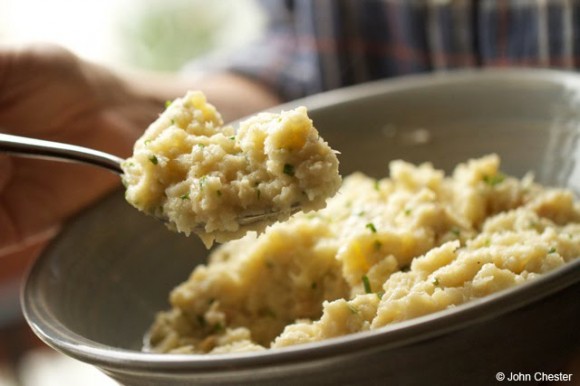 Photo Courtesy of Organic Spark
And viola!  You have a healthy, lightened up version of mashed potatoes.  The best part?  A one cup serving of mashed cauliflower has about 120 calories.  A cup of regular mashed potatoes (not even the cheesy kind) can have almost 400 calories! After all the disasters…I can honestly say Gary actually looks forward to when I mashed cauliflower nights.  Fettuccine Alfredo…not so much.
If you try out this recipe…I'd love to know what you thought!  Have a great day!
LIKE me on Facebook!          FOLLOW me on Twitter