In order to keep it honest around here…I'm going to write a post that is rather embarrassing.  Most of you will probably laugh at me and think I'm cray-cray…but for some of you…this just might make your days a little brighter.
You know when you wake up in the morning you have a certain routine.  Get out out of bed…brush your teeth…eat breakfast…and so on.  If you're anything like me…you wake up…and check your phone.  Look through emails…text messages…Facebook…people.com.  You know…the important stuff.  I get up pretty early so usually the only emails I have are from J.Crew letting me know I'm missing some monstrous sale…which makes me feel like I need to buy something immediately.  I'm such a sucker.  Or from Gary letting me know about some odd news story he found really exciting.  It's usually something along the lines of Santa's mug shot or some criminal robbing himself.  He goes to work really early.
But every morning…no matter what…there is always one email I can count on.  And here comes the part about me being cray-cray.  Every morning…I get an email from the Universe.  Yep…you heard me right…the Universe.  Now before you think I've totally lost it…let me explain.  It's sort of like a little pick me up in email form.  You sign up for it and it sends you a little bit of inspiration for your day.  Most of time they are absolutely hilarious…and surprisingly relevant to the day ahead.  I always read them to Gary to let him know what the universe has in store for us…he acts like he thinks I'm crazy but I know deep down he loves it.  Or at least that's what I tell myself.  So today I am going to put a little Universe wisdom on you.  And even though you may act like you think I'm crazy…I know deep down  you love it.  🙂
You don't even have to know what you want, Lauren. I'll take care of that.
Just enjoy that you received another day, and the 10,000 miracles within it.
It's on me,
The Universe
What you can do with your life, Lauren, has little to do with what's going on in the world.
And everything to do with what you see as possible.
Grrr-r-r,
The Universe
Whatever your problem or challenge may be, Lauren, laugh at it. Laugh long and hard.
Because you are forever and it is temporary.
Love you,
The Universe
Give thanks, Lauren, whenever you want more.
Of anything,
The Universe
There's not one person on Earth who's there for the same reason as you…
Finding and celebrating Lauren Wakefield.
Whoop,
The Universe
If you only knew, Lauren, how normal you were when you thought you were weird.
How strong you were when you thought you were weak.
And how ready you were when you thought you weren't.
You'd think again, oh Great One Revered by All in the Unseen –
The Universe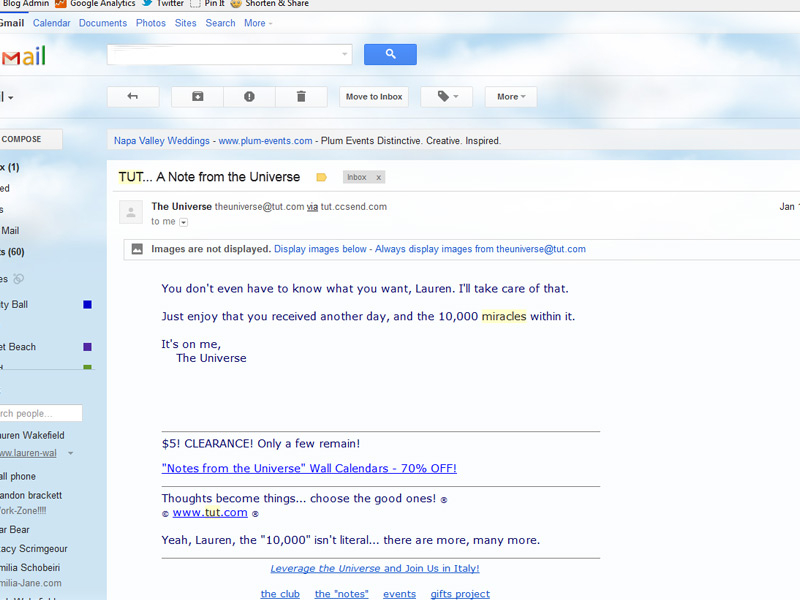 So…are we still friends?  Just in case you'd like to receive some morning goodness from the Universe…you can sign up here.  I promise the giggles are worth it.