There are a lot of things in my business I am still figuring out.  I'm perfecting my workflow and finding systems that work best for me.  I'm constantly learning new things and bettering myself not only as  photographer, but as a business woman.  I won't lie…it's hard.  Especially during this fun time of year we like to refer to as Tax Season.  (Insert my panic face).  There are moments where I feel completely lost.  Sort of like I know absolutely nothing and could have a melt down at any given moment.  Kudos to all the accountants out there.  But I have to keep bringing myself back to the surface and reminding myself of what I do know.  And what is working.  I thought today I would do an FAQ post on the things I can say for sure…are working for me.  Being me…plain and simple.
Being Myself.
This was hard.  I wanted to fit into the Wedding Photographer mold so bad I would have done and said anything.  I was doing everything I thought I should be doing instead of just being myself.  I blogged about things I thought I should blog about instead of things I wanted to blog about.  I would stare at Facebook trying to think up something to say instead of just saying things that came natural to me.  In other words…I was being everyone other than myself.  And this was not working.  I was not booking weddings.  I was not moving forward.  I was failing.
The day I started honestly being myself is the day everything changed.  I forced myself to present myself in a way that was honest and 100% me.  As soon as I made this change, not only was I booking weddings but I was booking them with brides I LOVED.  Brides who liked what I liked.  And who were just like me.  This is not to say this was an overnight change…but the more of myself I put out on the web…the more things changed.
Here are a few things I changed in a big way to be more of myself…and put more of myself out there.
My Blog
The day I started blogging about things that I cared about…and things that represented me was a big turning point.  I would look at my blog stats and there were certain times I couldn't believe my eyes.  The days I thought I was blogging about what I should be blogging about…no one was reading.  But the days I would blog about my Dad and I's obsession with Meatloaf…TONS of people were reading!  It was like a light bulb went off in my head.  If you write about things that interest you, and matter to you, you will attract those same types of people.  Potential brides that share your same interests and find the same things important.  And better yet, brides that value you as a person…and hopefully a friend.
Here is one of my first blog posts.  If you asked me right now when Earth Day is…I couldn't tell you.  But on that particular day…everyone else was blogging about it.  So…so did I.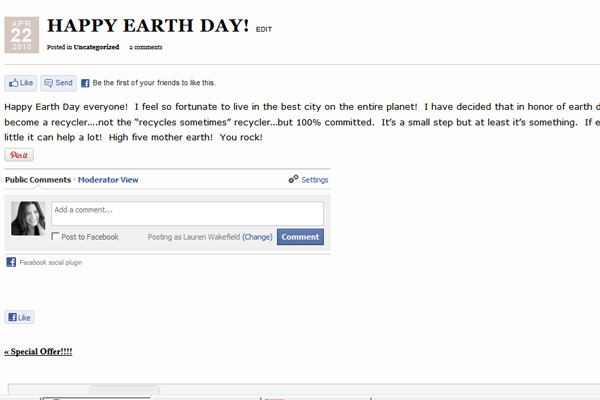 I'm pretty sure I had one view that day…my mom.
Not only was I being honest on my my blog…I was being consistent.  I blogged everyday, Monday through Friday…and I blogged about subjects that I truly loved.  Photography, Gary, Goose, spending way too much time on the couch, my love of all things Starbucks…you get the picture.  The people who love what they read on my blog are the people who contact me…and the people who I love to work with.  It was a match made in heaven.
My Website
This one took time. In the beginning…just like blogging and being myself…I was copying.  I wrote my bio section just like everyone else's bio section.  I tried to make sure my site "fit in" with everyone else's.  I'm not proud of this…but it's the truth.  It was only a few months ago when I published a site that I can honestly say represents me and my style.  It showcases a brand that defines me (thanks Ravyn!!!!  If you're looking to rebrand…call her!) and more important a visual identity I'm proud of.  It is easy to feel like a logo and a color scheme define a brand…but it is so much more.
One of the most successful things I did to bring more of me to my site and brand was adding video.  When potential brides came to my site they saw me…talking…living my life how I honestly live it…and they connected.  They may connect to the fact that I"m drinking a Starbucks coffee…or to the way Gary and I live our life…but before they've ever spoken to me they feel like they know me.  And that is something that is priceless.
Video by Joseph Isaacs.  He's AMAZING!!!!!
 Facebook
Oh Facebook.  We have had our up and downs.  As I already mentioned…I used to stare at my blank status update and rack my brain for something to write.  Why was this hard for me?  I have no clue.  I mean if you think about it…how hard is it to write about YOUR OWN status.  I think at the time I felt like everyone around me was so much wittier or relevant.  And at times just way more interesting.  One day I just made the decision to say whatever I was thinking.  No matter what it was.  If I was eating Goldfish and thinking about how much I love them…then that would be my status update.  And guess what…a whole lot of other people like Goldfish too.  Who would have guessed.  As I stuck by this way of thinking I began posting snuggly pictures of Goose and funny pictures of Gary.  Random thoughts and humorous tidbits.  And once again…the people who "liked" what I was saying where people who were just like me.


This may all seem really simple but over time it is what has worked for me.  Being ME.  And not the me I thought I had to be…but who I actually am.  This may seem silly to some…but hopefully some of you can use this to help grow your businesses into exactly what you want them to be.  And as always…I'm more than happy to answer any and all of your questions.  Just ask.  🙂