I don't know if it was the wine or Sprite or almondy joy chocolate chip cookies…but as I sat around the table last night with some of my favorite people on this earth…I got little butterflies in my stomach.  Not only because I got to spend an evening laughing and talking about anything and everything.  Including Justin Timberlake.  But because somehow in this crazy life…in this crazy industry…I found a place I can call home.  I found people that I can call friends…people who in any other life would be my competition.  But as we sat bunched around my dining room table…were my biggest cheerleaders.  
I was laying in bed this morning thinking about what it means to have people in your corner.  What it means to have people in this industry who believe in you and make you better.  And how above all else…I want to be that person for other people.  This week marks the month count down until our Turning Tides Retreat and just like last night…I have butterflies.  Sure…a few of them are nerves because I know it's going to be unlike anything I've ever experienced before.  But the rest of them are excitement.  Excitement to spend a few days with a group of people who will become my life long friends.  And who will always be in each other's corners.  Late night talks over lots of wine.  Boat rides and one on one conversations that will pull out that person that is buried deep inside all of us.  I'm excited to learn and grow and give every piece of me that I can to help every person there do the same.  I know deep down in the pit of stomach…this retreat is going to change lives.  And I whole heartedly believe mine will be one of them.
Since we are a month out (eeeeeek!)…we are running a special this week only for $50 off your seat!  There are still a few seats left so let's fill this baby up and have the time of our lives!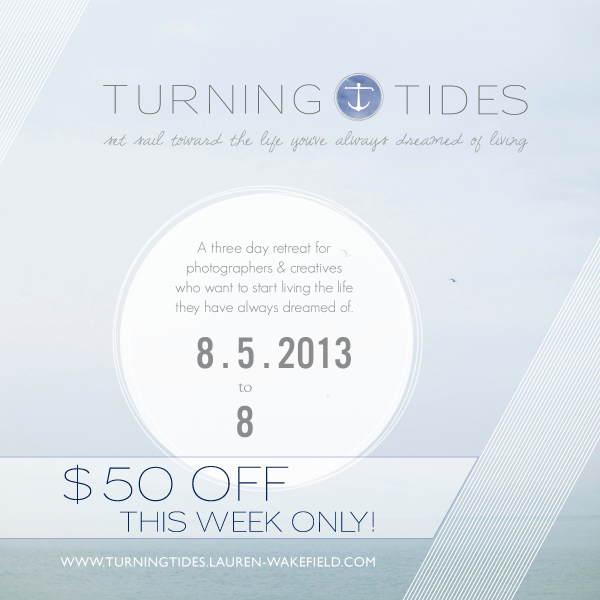 I can't wait to see you there!