I feel like I should stand up on a pedestal and repeatedly pat myself on my back because I actually finished both books!!!!  I mean…I knew I would finish Gone Girl…but like I said…I start business books and then I usually lose interest about half way through.  This system is magical because it's like I get a prize for finishing a business book!!!  It's genius…if I don't say so myself.  🙂
So here's a little look back at last month's books:
The Strengthsfinder – This was surprisingly enlightening.  Basically…the concept is that you should focus on your strengths instead of trying to make up for your weaknesses.  If you are a seven at shooting and only a two at accounting and you work as hard as you possibly can to double your skill…you'll still only going to be a four at accounting.  But you would be a 14 at shooting!    There is an assessment you take online which gives you your top five strengths.  Then you know where to focus your energy instead of wasting it on areas you most likely would never excel in.  It's pretty interesting and I highly recommend it.
Gone Girl – Oh man!  Loved this book.  I usually fly through books in a matter of days and I realized it's because I am reading things like The Hunger Games and 50 shades where the writing is…well…less than amazing.  But this book I had to slow down and really focus on every single thing that was happening and I was completely enthralled the entire time.  I just finished it a few days ago so I'm still not sure how I feel about the ending…but regardless the book was amazing.  So creatively written and I am so excited for the movie it's not even funny.  Ben Affleck and Reese Witherspoon….yes please!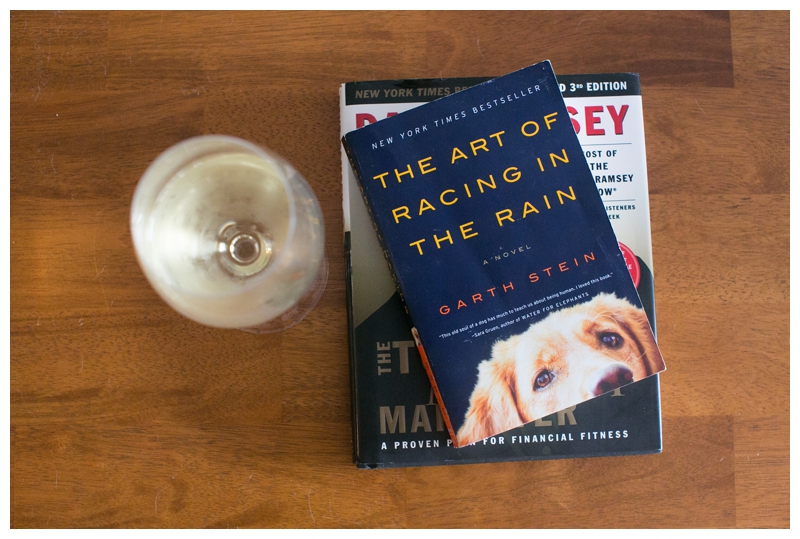 So now on to this month's books.
Business: The Total Money Makeover – I figured I would try to stay somewhat relevant to my life when picking business books.  After Christy's budget talk at Turning Tides and all this fun wedding planning in my future my brain is all things money and budgets right now.  Plus…with the looming off season not too far away I figured this would be the perfect book.
Fiction: The Art of Racing in the Rain – I have to be honest…I don't know a ton about this book.  Except that it is made for dog people…and I'm a dog person.  My best friend, Sid, recommended it and said it was a must-read.  I normally don't read dog books because they inevitably die in the end but she swears by it.  From my understanding, the story is about a family and their dog…written through the dog's perspective.  Get the tissues ready.
For those of you who are reading along…what did you think?  Did you read last month's books?  Or just one?  Are you excited about this month's books?  Since this is a virtual bookclub and bookclubs don't count unless there's wine involved…grab a glass of wine and let me know your thoughts.  It will feel like the real thing I promise. 🙂