I've said many times before that I find it very hard to write FAQ posts.   As soon as I go to start one I immediately stop myself.  I don't know if I'm just afraid people will disagree with me (which is almost guaranteed to happen)…or I don't feel qualified enough.  I don't know what it is but I think it's time to overcome it.  I read a quote somewhere that I find to be very appropriate.  "Life begins at the end of your comfort zone." So today…I am doing it.  I know when I first started my business I was scouring blogs trying to find any and every bit of information I could.  Other photographer's blog posts helped me grow immensely and if I can help even one person then I'd say it's worth me stepping out of my comfort zone.
Today I'm going to talk about variety.  I don't know about you, but there have been so many times that I have been standing in front of a couple at an engagement session with sheer panic running through me because I didn't know what to do next.  I mean they can only look at each other and look at me so many times before they realize I am drawing a ginormous blank.  I remember editing my first engagement session and thinking I basically just took the same picture over and over again in 10 different spots.  I would spend hours online looking up different poses but for some reason when it came time to deliver…I blanked.  Over time I came up with little tricks that helped me avoid the inevitable blank and provide my couples with tons of variety in their photos.
The day I started shooting with prime lenses changed my life.  When you are your own zoom it forces you to move and get in the action.  One of the things that helps me tremendously is to always be moving.  I'm always searching for a different angle or a different way to shoot the same pose.  Coming up with a pose that really works can be hard…especially under pressure.  So once you get your couple in a pose you like…move around them and shoot it from every angle possible.  Here are a few examples of what I'm talking about.
In the first photo I was crouched down shooting Ashley straight on.  In the second one I was standing above her shooting down.  She didn't move at all…but I got two totally different images.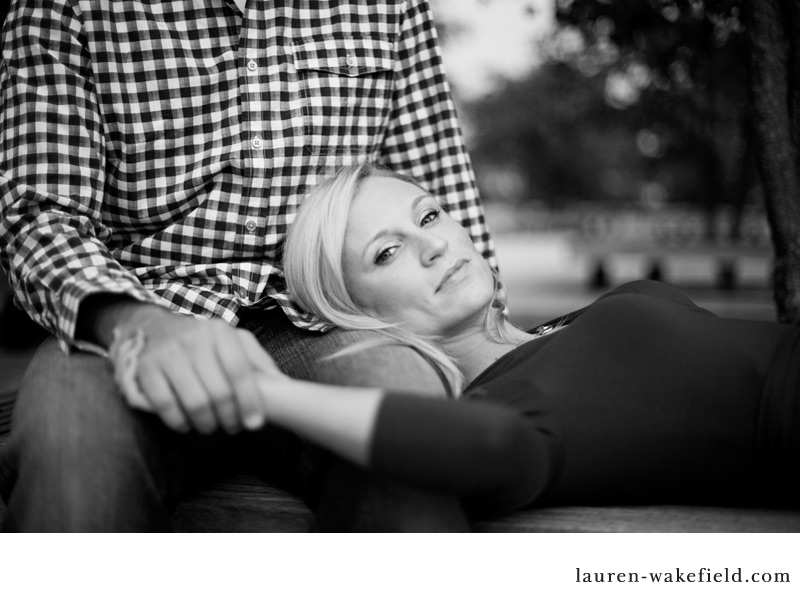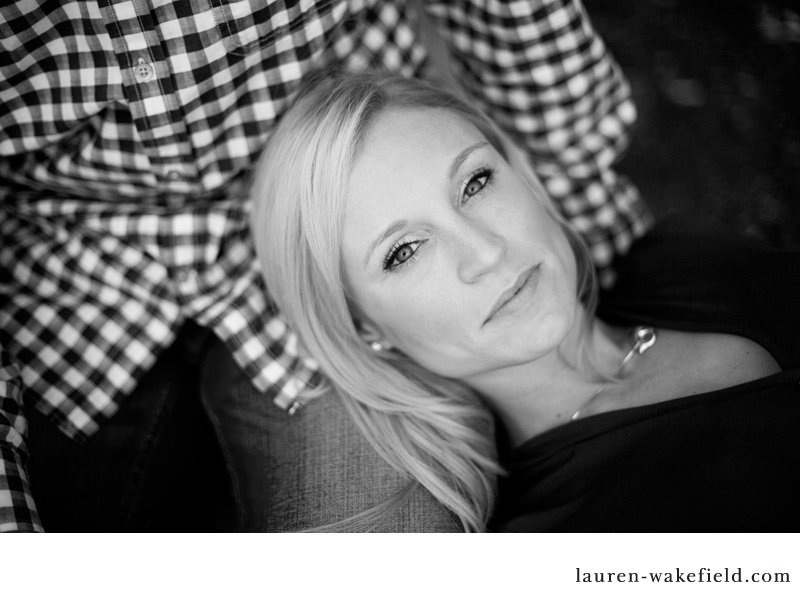 Same with this set.  I shot over Shaun's shoulder in the first one to get a shot of Maggie.  And then in the second I came around in front and got a shot of both of them.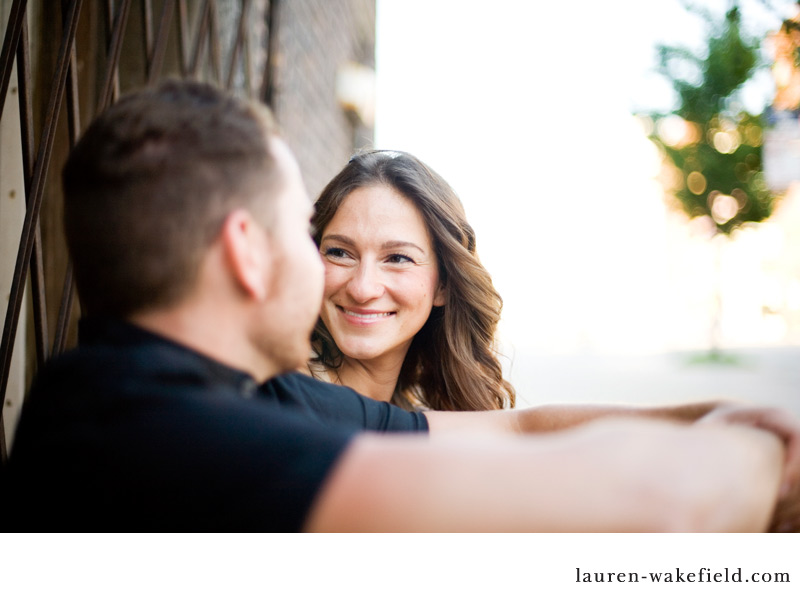 In these photos, I not only changed my angle…but my distance.  Getting a little further away allowed me to be able to shoot through the grass…which gives me the variety I am striving for. 




From the front….from the back.  All Christine had to do was turn her head.


Sometimes different lighting situations prevent you from being able to shoot from every angle.  I was lucky on this particular shoot to have beautiful overcast skies.  BUT….if you are in harsh lighting you can still use this concept.  In the photo on the left I am shooting directly in front of them.  In the photo on the right I moved my body about 6 inches to the left and got in really tight.  Had there been direct sunlight…I would have had it behind them and both photos would have still been successful.


Again…another example of different angles making two completely different photos.  On this particular day it was incredibly sunny but I was still able to move around and keep the light where I wanted it.




Another thing that really helps me is to think about the relationship between focus and zoom.  Choosing different distances and focal points can make completely different images.  Here's what I mean…
In the photo on the left I am focused on Ravyn's eye.  In the photo on the right I am closer to her and focused on her bracelet.  Focusing on two completely different areas helps you get variety in one pose.


This is the same concept…just executed a little differently.  When taking these photos, I knew they would work really nicely together.  So as you can see, in one photo Ashley is in focus…and in the other Lee is in focus which changes it up a little.


Here is an example of being your own zoom.  For the most part I shot all three of these images from the same angle…give or take.  I changed my distance AND focal point to get a different feel in each image.


Last example I promise!  These photos are taken from the exact same angle…but the focus is completely different.   One is focusing on the flowers while one is focusing on Emilia's rings.   She didn't have to do anything…I just changed what I was looking at.


I want to stress that all of the above are just my way of doing things.  They are in no way the only way to the right way.   I know if I had had this information when I first started it would have saved me a ton of stress and anxiety.  So hopefully this is helpful to at least someone and if not…I promise to try again next time.  🙂