I met Brianna a few months ago and knew we were a match made in heaven.  The second I saw her (and her sassy hot pink lips)…I knew she was the real deal.  Brianna was the makeup artist on a Bridal shoot I did recently and the makeup turned out better than I could have ever expected.  It was flawless!  As she was working her magic we got to talking and I couldn't believe the wealth of information she had when it came to makeup.  As a makeup lover myself (I literally have drawers filled with eyeshadows)…I knew I had to pick her brain and share all her goodness with the blog world.  Brianna has an awesome website called Makeup Minutes where she does little video segments with how-tos and very helpful makeup tips.  I'm officially addicted.  So today on Fashion Friday it's all things makeup.  Here are a few questions I asked…but feel free to leave any other question in the comment section.  I promise…she knows her stuff!  🙂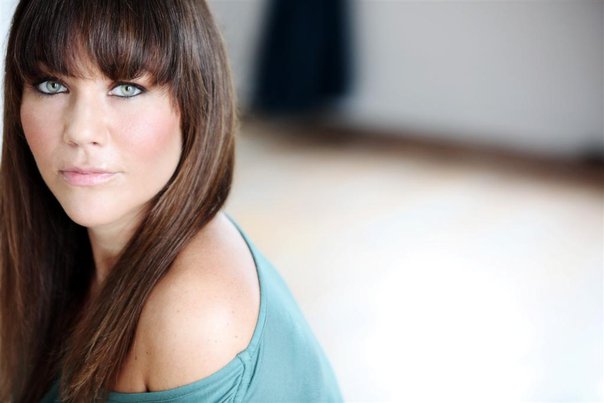 (Photo courtesy of Brianna Thompson)
1. Tell me a little about yourself and your background…
Well, I always loved being in front of the camera and I ended up graduating in broadcast journalism and worked in that field for 6 years.  I started when I was 18, so I was very young.  Upon graduating college, I needed a change so I applied at Macys to work at the cosmetic counter.  I always LOVED makeup. Technically, I have worked in the makeup industry ever since.  Now, I freelance in Chicago and I am combining my broadcasting and makeup background with the launch of Makeup Minutes.
2. I'm slightly obsessed with makeup.  What are your favorite brands and why?
I think that overall life is hard, and makeup should be fun and easy.  You shouldnt think of it as a chore.  You should think of it as fashion…like buying a new top or dress and being excited to wear your look out.  I love Stila, of course, not only is it a good product, but the packaging is so fun and cute.  I also like Makeup Forever, and MAC.  I have to separate my makeup.  What I use for professional shoots, may not be what I would recommend a mom with two kids or a career woman.  Makeup is also about lifestyle so I am always educating my clients about that.  I have recently discovered Wet and Wild eyeshadows are surprisingly pretty decent for drugstore brand.


3. How would you define your personal makeup style?
I like to think of it as my signature style…what I LOVE to wear: Bright, bold lip, lots of eyeliner, bronzy cheeks, and gold or amber colored eyeshadow.
4. What are 3 pieces of advice you would give a bride when planning out her wedding day look?
1. Bring samples of a few makeup looks you like.  It's always helpful in communicating through visuals what you would love to look like on your wedding day.
2. Stay Healthy.  Having beautiful skin takes a lot of pampering and its a lifestyle.  You need to eat right, exercise and get plenty of beauty sleep.  All these things DO come into play in maintaining good skin.
3. Take photos.  For pictures, you will need to have a little more makeup on than usual.  Remember, you are in a formal gown so you will need a formal makeup look.  Take photos of the look so you know how you will look on your special day.
5. Do you recommend doing a "trial run" before the actual wedding day?
Absolutely.  Maybe even a few trial runs…depending on how the first one goes.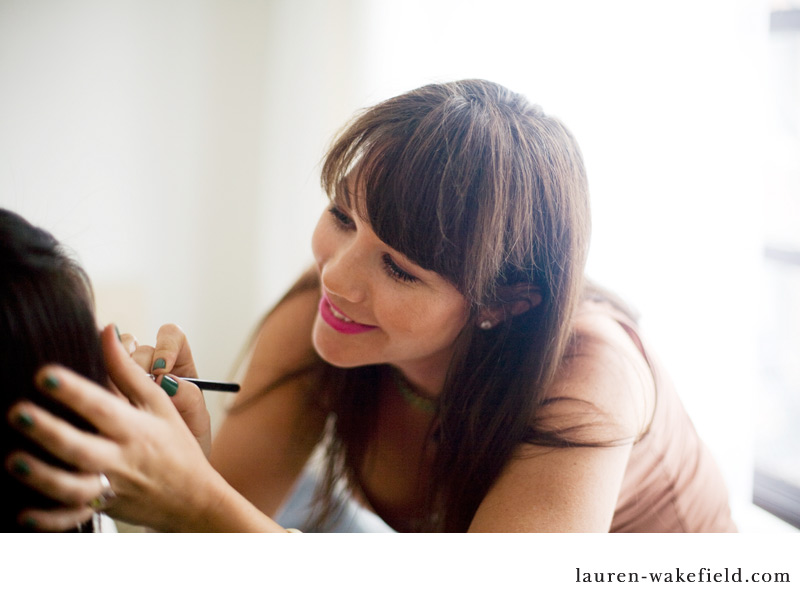 6. As a photographer, I think gorgeous makeup can really take wedding photos to the next level.  What would you recommend for a bride who wants that photo-ready look, without the cakey makeup feel?
Airbrush all the way!!!  Its the hottest thing out there right now, especially for brides!  You may pay a little more, but if your wedding is in the Summer…you will definitely want airbrush to beat the heat.
7.  What advice do you have for keeping makeup fresh throughout an entire wedding day?
Really, it's airbrush foundation.  It seriously lasts all day.  I also recommend keeping some concealer, powder and your lip color tucked away in a small clutch for touch ups.


8.  When I shoot a wedding, I show up with my makeup looking great…and by the end of the ceremony it's a mess.  Do you have any suggestions for makeup for photographers that will stay put and not sweat off or rub off on the camera?
9. What's your favorite thing about being a makeup artist?
My favorite thing is making a woman feel beautiful.  I know it sounds so cliche but seeing the before and after shots are really amazing and seeing a clients confidence level go up several notches really makes me feel like I did a job well done!


10. And last but not least, if you could do anyone's makeup in the world…who would it be?
You are probably thinking I am going to say a celebrity, but I love working on everyday people.  I love working on someone who may not wear any makeup at all, or someone who had gorgeous eyes and isn't really playing them up the way they should.  I especially love working on kids who have low self-esteem and think they are ugly and showing them that they ARE beautiful.  I was this kid a long time ago so I can relate to them.  I am able to do this through makeup and its a very powerful thing that I love!
Brianna – Thank you SO much for sharing your knowledge and talent!  You are truly amazing and I will most definitely be calling you before my next date night!  I need to try out those sassy pink lips!
Happy Fashion Friday!