Ever since I attended Justin & Mary's Spread the Love workshop I have been consciously working on making myself…and my brand…a Lovemark.  What is a Lovemark you ask?  A Lovemark is the next level of a brand.  It's making yourself, and your brand, stand out above the rest.  It's a feeling and an association that people feel when they think of you.  What are brands you love not only because of the product they offer but because of how they make you feel?  Brands that you are loyal to…no matter what?  I love Micheal Kors…not because I think his clothes are gorgeous…but because of how I feel when I wear them.  I love the way I feel when I see one of his ads and envision myself in them.  It's far more the feeling than it is the product.
Mary asked us at Spread the Love to name some of our own Lovemarks.  Of course Starbucks was a very common answer.   I raised my hand and said not only was Starbucks my Lovemark…but my specific Starbucks.  The one I go to every day where they know my name and ask about my day.  As I mentioned in Friday's post…Chicago is getting Pumpkin Spice early.  The big arrival day is tomorrow.  All the girls at my Starbucks know how much I LOVE me some pumpkin spice.  I went to get my coffee this morning and they told me I'd have to wait until tomorrow.  🙁 As I was waiting for my drink one of my barista friends ran to the back…opened up a container of Pumpkin Spice and gave me the drink I'd been waiting for all year.  Only because they know how much I love that drink…and how excited I was to have my first sip.  Lovemark.  Had I walked into any other Starbucks in Chicago that would have never happened.  But that Starbucks…MY Starbucks…cared.  And I go there, religiously, not because I love the coffee…but because of how they make me feel.  Every single day.
This is a great lesson to learn as a photographer.  There are thousands of photographers.  And there are thousands of photographers with really great work.  Amazing…beautiful work.  So how can you stand apart?  How can you…in a sea of photographers and beautiful pictures…make someone choose you.  I am challenging myself to be a Lovemark.  I am challenging myself evoke a feeling.  To be the Starbucks that opens the Pumpkin Spice early because they care.  And to take my brand to the next level.  Who's with me?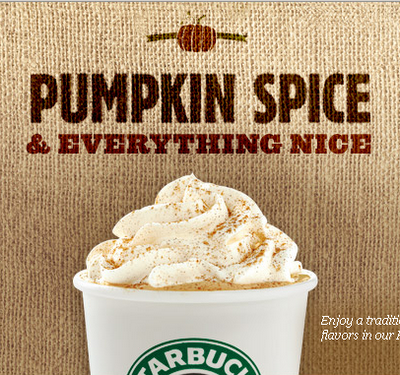 And if you're in Chicago…go get some Pumpkin Spice tomorrow.  It's quite delightful.
Enough ramblings from me for today!  Have a great Monday!
LIKE me on Facebook!          FOLLOW me on Twitter