Dane Sanders is one of those people that when he speaks…you listen.  He tells you how it is and is fabulously unapologetic.  He has this undeniable desire to help others and it is infectious.   And I think it's safe to say that after hearing him speak last night…I'm infected.
In case you don't know who Dane Sanders is…he is a photographer/entrepreneur/speaker/author extraordinaire.  He wrote the book Fast Track Photographer…later followed by The Fast Track Photographer Business Plan.  I'll be honest…I'm only about 1/4 of the way through his first book but so far so good.  When I heard he was giving a free talk, of course I jumped on the opportunity.  I wasn't sure what to expect but I walked out of that room last night with a completely different way of thinking.   A different way of looking at things that just seemed to make so much sense.
See…Dane operates off a few key principles.  He's broken down this incredibly overwhelming, crazy, intimidating industry we've all chosen and turned it into something attainable.  Something that's not that intimidating after all.  It basically breaks down to:
1. Figure out where you are
2. Figure our where to want to be
3. And work your little hiney off to get there.
Simple?  Yes…  But when you really sit down and think about it…we all think that is what we're doing.  But when it really comes down to it…what are we actually DOING.  What action are we taking to get to where we want to be.  I am as guilty as anyone.  It's always…well once this happens then I'll do this.  Well as soon as I get this then that will happen.  I can talk for days about all the things I'm going to do…and how I really want to be successful…but the hard question is…what am I doing about it? 
Something he said that really stuck out to me was "What you're hearing will limit what you're not hearing."
That can be interpreted several ways…which is exactly the point of what it is saying.   Your perspective or state of mind or Frame as Dane calls it…determines what you are hearing.  If it is stuck in a negative place…that is all you will hear.  If you decide to focus on how everyone else is more successful than you…or how it's so unfair that you haven't "taken off"…that is what you will get.  If you change your perspective and start focusing on what you can DO to create your own success…that is when things will change.  Or at least that's what I took from it.  🙂
I know first hand how frustrating and incredibly hard this profession is.  No one decided to be a photographer because it was easy…at least I didn't.  Something about the things Dane said last night just stuck.  They made sense.  A lot of people may read this and think I just wrote a bunch of nonsense that everyone already knows.  But for me…this is a chance to take control of my way of thinking…my actions…and ultimately my success.  I challenge you to do the same.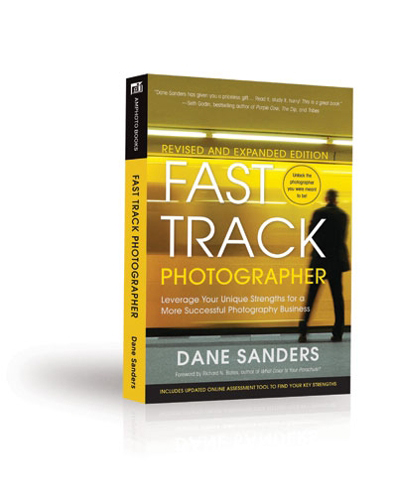 And since I am so pumped right now…I'm going to give away a copy of Dane Sanders, Fast Track Photographer (or his second book, The Fast Track Photographer Business Plan if you already have the first one).  Leave a comment below and tomorrow I'll pick a lucky winner.  And trust me…this winner will be very lucky!
Whew!  I'm pretty sure I just wrote a novel.  If you have any questions at all please contact me!
LIKE me on Facebook!          FOLLOW me on Twitter