Once 1:00 or 2:00 rolls around we always have the same conversation.  What should we have for dinner.  I'm one of those people who hasn't even finished lunch yet and I'm already thinking about dinner.  We tossed around ideas and talked about how excited we were for the new episode of The Biggest Loser.  We try to eat extra healthy on Biggest Loser nights…for obvious reasons.   We had settled on a very nutritious dinner and moved on to more important things.  Like Valentine's Day plans and Beyonce's post baby body.  I just don't know how those celebs do it.
Somewhere between chit chat and dinner time…chaos ensued.  I forgot my keys.  We got a flat tire…on the spare (don't ask).  Goose decided the office was his new bathroom.  It was a lovely evening.  So needless to say…our nutritional dinner turned into frozen pizza.  Wonderfully delicious, bad for you pizza.  Oh…and let's not forget the brownies.  Warm, chocolate brownies.  It was like Bob Harper was staring at me every time I took a bite.  And he did not approve.
This morning as I ate my non-fat yogurt I told Gary it is time to get it together.  No more bad-for us-dinners…even if every tire goes flat.   Since I'm getting back on track…I thought today would be a good time to do another healthy recipe swap.  I don't know about you but I was always one of those people who thought salad = healthy.  I would order salads at restaurants with extra cheese and ranch dressing and would consider that health food.  Once I learned more about healthy eating I realized I couldn't have been more wrong.  A Caesar Salad can have more than 900 calories!  900!!!!!!!!!  Some restaurants…such as Chili's…have salads on their menu with as many as 1400 calories!  I learned very quickly that a salad…more often than not…was not healthy.  So when I came across this recipe for a "healthy" Caesar Salad I was stoked.  Gary loves it…I love it…and I'm sure if I let Goose have some he would love it too.  Here is my very delicious recipe for a good-for-you Caesar Salad…
Ingredients:
For the dressing:
2 tablespoons fat-free Greek yogurt
1/2 garlic clove
1 teaspoon Dijon mustard
1 teaspoon malt vinegar
1 tablespoon olive oil
Salt and black pepper
For the salad:
Romaine lettuce
1 tomato
Parmesan cheese (I like the shaved kind)
Optional Ingredients:
Grilled Chicken
Black Olives
Croutons
1. To make the dressing, combine all the ingredients into a small mixing bowl and stir together with a whisk. Taste and season before setting aside.
2. Chop the romaine (or buy the pre-chopped kind like me!) and place it in a bowl.
3. Dice the tomato and place desired amount in the bowl with the romaine.
4. Sprinkle cheese on top.
5. Add dressing and toss.
**You can also add grilled chicken or black olives to spruce it up a little bit.  To make it a more hearty meal, add croutons.**
This entire dinner sized salad is under 300 calories.  Even with the added chicken and croutons (light on the croutons) you're still looking at under 500!!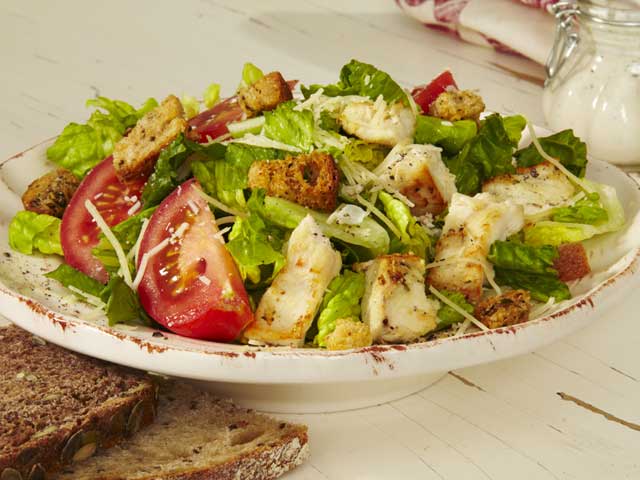 This dressing is DELICIOUS…you may never go back.  Try it and let me know what you think!!!  I think I've just decided what's for dinner tonight!  🙂