Yesterday when I posted part one of our wedding photos I had every intention of just doing one post.  But as I started picking out that photos that just would have been impossible.  It's seriously like I love every single one.  Choosing was next to impossible.  So when I ended up with 253 photos that I just HAD to post…it was either crash my blog or divide them up.  So today…as promised…is part two from our amazing day.
I can't say enough times how impossible this day would have been without all the help from my family and friends.  They not only flew to another country to be at our wedding but then were willing to get to work as soon as they got there.  Almost everyone had a job and honestly on April 25th when I saw it all come together…I almost died.  So I wanted to take a minute to personally thank all the people that made it happen.
Mom…I think that phrase 'thanks for everything' is very appropriate here.  You made the whole process of planning a wedding so fun.  You were the first to help with anything I needed and never once made me feel like I was crazy for some of my…let's be honest…crazy ideas.  And once we got to Antigua…you made things happen like a pro!!!  Taking care of the late night food, coordinating with all our helpers, renting cars, tearing down all the decorations, ironing my veil for 4 hours straight, dealing with all our vendors so I didn't have to worry about it…and making me feel like the luckiest daughter in the world!  
Cara…you took something that I didn't even know was possible and made all my wedding dreams come true.  From countless hours on the phone breaking down every foot of lights and inch of table…to keeping me so incredibly on top of things through this whole process.  And not to mention flying down to Antigua for not even 48 hours so you could be there on my special day!  You turned dust into diamonds and when I walked into Shirley Heights on my wedding day it literally took my breath away.  You worked your a$$ off to make my day absolutely perfect and I will never be able to thank you enough.  Having you and Shane there meant everything.  I am so grateful for both of you and feel so lucky to have such an amazing wedding planner as a best friend! (If anyone wants to think outside the box and have a wedding that is truly one-of-a-kind…Cara is your girl.  Check our her site, Murphy & Co…you won't be sorry!!)
Dad…I know this wedding took about 5 years off your life…but just know your little girl got the wedding of her dreams.  Having you walk me down the aisle was just like I imagined and your speech blew everyone away.  You nailed it.  Thanks for being the first real man in my life and being the best dad a girl could ask for.
Sid (muffin)…You 100% deserve the title of 'Maid of Honor of the decade.'  From my veil to my belt to all the chalkboards to our thoughtful gifts to my bachelorette party to doing mine and everyone else's hair…you took care of anything I needed I can't thank you enough for that.  You were there every step of the way and I will never forget getting to plan this wedding with you.  Thank you for wearing so many hats so effortlessly…I love you sooooooooooo much muffin.  
Kasey…I sometimes can't believe how lucky I am that I get a sister-in-law like you.  You made everything about my wedding so much fun and I can't thank you enough for making me feel so special.  Thank you for the best bachelorette party ever…the most perfect rehearsal dinner I could have ever imagined…a killer speech…and being such an amazing Matron of Honor.  You are truly the best!!!  Love you!
Josh…Thanks for not pushing Gary off of Shirley Heights.  My future children thank you.  😉  But seriously…you made the whole week in Antigua such a blast and really stepped up when I needed you.  Thanks for helping with all the set-up at Shirley Heights…and driving everyone back and forth…for an amazing rehearsal dinner…and totally nailing your speech.  You're not too shabby in the brother department.  
Shannon…Thank you for making this whole process so much fun.  You made Gary and I feel so special and it meant so much to us to have you there.  Thank you for all your help with everything…and for organizing one of the best moments ever…the flash mob.  That is something I will most definitely never forget.  Love you!!!
Aaron…Thank you for being an amazing Best Man to Gary.  You were so on top of everything and I never had to worry about a thing.  We had such a blast with you all week and just like I said to Shannon…thank you for our flash mob.  Seriously one of the best moments ever!!!
Stef…Thank you for nailing your role as a fun facilitator…that bus was rockin'.  And don't forget you will always hold the title as Team Spirit award winner.  😉  But seriously…thanks for being such a great bridesmaid and friend…and for making my wedding and entire trip to Antigua so much fun.  It meant so much to have you there!!!
Stacy…Let's be honest…you owned the hanging of the lights.  Thank you for being the first to take care of whatever I needed…and making my whole wedding day so easy.  I had SO MUCH fun with you and am so thankful you were there.  Thanks for being such an awesome bridesmaid…love you bud!!! #youknowwhat
Lola…Thank you for making our ceremony one-of-a-kind.  It was absolutely perfect and I couldn't imagine anyone else marrying us.  Thank you for all your help with everything and loving us enough to make our day wedding truly perfect.  We are so lucky to have you in our lives!!!
Scott…Thanks for being our resident DJ.  The music was perfect and completely made the night.  From the flash mob to the serious face dance-offs…you owned it.  And Annie…thank you SOOOO incredibly much with all your help setting up.  You were a lifesaver.  Love you both!!!!
Katie…What you did with those flowers still blows my mind.  You made my wedding so incredibly beautiful and I will probably be thanking you for the next 10 years.  You gave so much of your time and very obvious talent to make my day so special and I feel so so lucky!  Plus…you put on one heck of a rehearsal dinner.  Thank you thank you thank you!!!!
Dave & Emma…Our Antiguan family. 🙂  Thank you for being our resident wedding planners and taking care and ANYTHING I needed.  Emma…you were so on top of it and took so much stress off of me!  And Dave…anything I needed…you made happen.  Thank you for the best airport welcome in the world…for single-handedly making this wedding happen…and for being such amazing friends!
Barb, Terri & Pam…What would I have done without you guys!!!!  Thank you for being so willing to help wherever I needed it and being so incredibly awesome.  Pam…thank you for all your help with the flowers.  They were so amazing.  Barb & Terri…thank you for feeding us on the day of the wedding.  You guys are seriously the best!  I'm so lucky to have you all in my life!
Matthew & Amie…Thank you for such an amazing rehearsal dinner.  It was truly unforgettable.  Matthew…it meant so much to have you there and Amie…you were 100% there in spirit.  I love you both and am so lucky to have you in my life!
Buck & Tom…Tom, even through all your stressful travel you still managed to make it and have such a blast.  It meant so much to have you there.  And Buck…your letter brought down the house and made it feel like you were there.  It is something I will never forget!
Whew…sorry about that novel.  OK!  Onto the photos…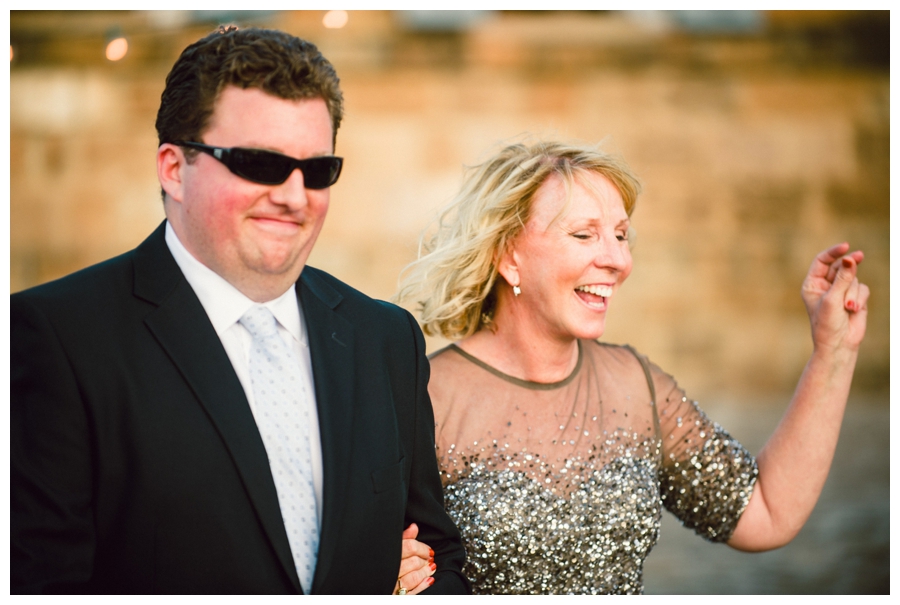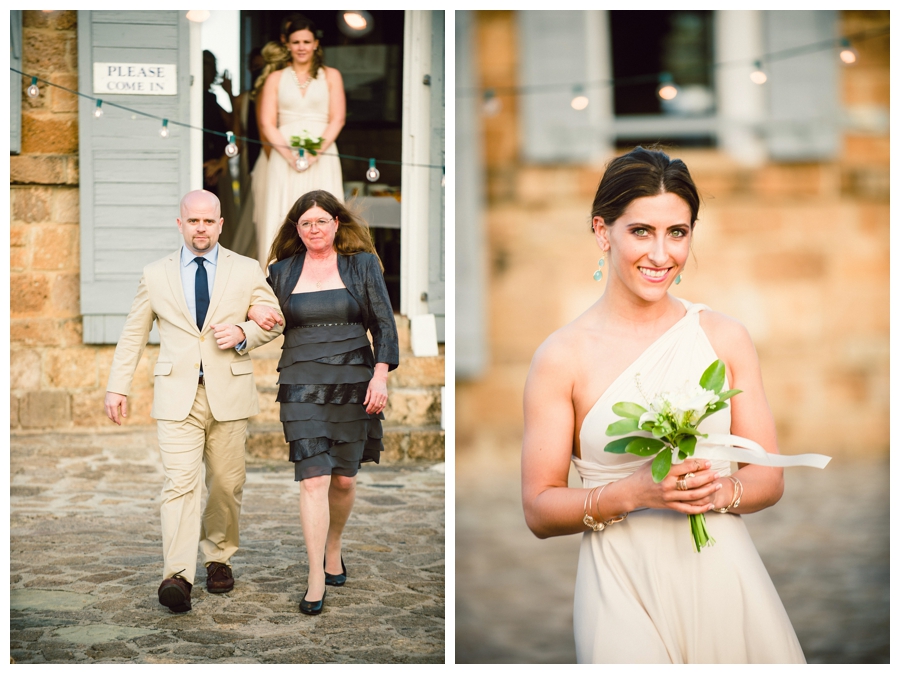 Everyone walked (or danced) down the aisle to "The Best Day of My Life"…which will forever be my favorite song.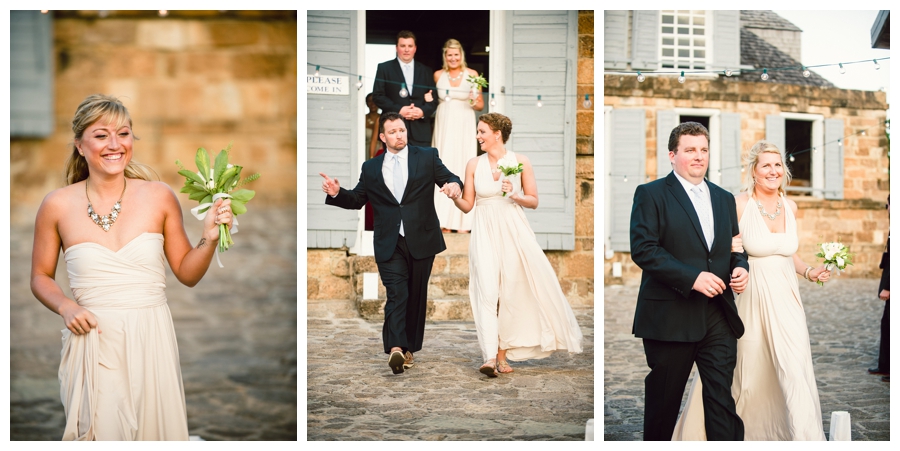 Katharine placed one petal on the ground…and then was officially done with her flower girl duties.




This photo makes me so happy.  🙂






One of our best friends, Lola, officiated our ceremony and it was the greatest part of the day.   The laughter never stopped and it was so intimate and 100% us.  We got it all on video and I watch it probably once a week. 🙂






This moment right here sums it all up.














Gary's vows were beyond perfect.  I think I'll keep him.
























Oh yeah…then Captain Dave fired the cannon and scared the you know what our of everyone.  Most priceless photo ever!












This little girl…




I have to take a second to talk about the decorations.  Shirley heights is basically a bare space.  The day before our wedding I left there with about 500 things that needed to get done.  And I was sure there was no possible way everything would come together like I had imagined it.  Then when I walked in about an hour before our wedding I literally almost fainted.  Between Cara Belvin (the most amazing wedding planner on the entire planet), Katie Kruse, all my bridal party and family and friends…they made it so magical.  It was straight out of a dream and I will never be able to thank them enough!




















I can't tell you how happy these pineapples make me.


My Maid of Honor, Sid, did all the chalkboards.  So so thankful for her!








When the sun set and all the market lights really got to make their appearance…it was honestly like something out of a dream.  So worth the 5 suitcases. 🙂


























Our very, very good family friend/honorary uncle couldn't be there so he sent a letter for someone to read.  It stole the show and brought everyone to laughter…and a lot of tears.  One of my favorite moments of the night for sure.






I wasn't kidding about the laughter.












We took a little moment to say our thank you's and let every person there know just how incredibly special they are to us.


One of my absolute favorite photos.


Three cheers for the best day ever.  Hip hip…


…hooray!!












My dad and I broke it down to a Meatloaf Medley that was pretty epic if I don't say so myself.






And then Katharine wanted to join the party.








And then the flash mob happened.  One of the coolest moments ever!!!!!!!




















The end…of the best. day. ever.
The wedding dream team:
Photography: Justin & Mary Marantz  |  Wedding Planner Extraordinaire: Cara Belvin – Murphy & Company  |  Venue: Shirley Heights  |  Flowers: Florexotica 
Bridesmaid Dresses: Etsy  |  DJ: Scott Dubbs  |  Hair: Sidne Hirsch  |  Makeup:  Me